Limited Edition Garments
Comet McNaught and Putauaki | Mt. Edgecumbe
The organisers of the 2017 Kawerau King of the Mountain race are excited to offer a unique opportunity to purchase limited edition runners singlet's or casual t-shirt's, with the one-in-a-million image depicting Putauaki with comet McNaught.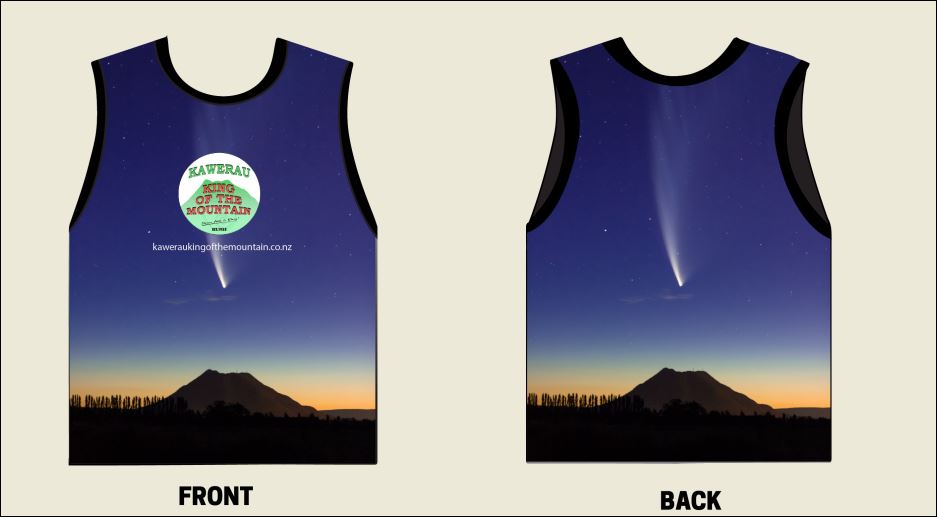 Each garment is lightweight material, perfect for training, recreational or social wear and is a hi-quality sublimated design.
Each item costs $60 each and can be ordered below.
Please check our FAQ's
On the back of each garment is a stunning image taken by Eastern Bay of Plenty photographer, Jason Wright, (one design has the image both front and back as pictured here).
We have four DESIGN OPTIONS to choose from; in both runner's singlets and t-shirts. You should also check the SIZE CHARTS (kids and adults); before ordering.
The image is under strict copyright and requires permission to be used in any form. Jason was happy to provide the image free of charge as a fundraiser for flood affected people in the township of Edgecumbe and the Eastern Bay of Plenty.
We would like to extend our sincere appreciation to Jason for his generosity and our deepest regret for those affected by the floods.  We would also like to say a massive thank you to FunTo who are producing the garments at a discounted rate for this cause.
We felt it fitting with such a stunning image of comet McNaught (otherwise known as C/2006 P1) hanging majestically above the Maunga in 2007; was by far one of the most iconic images around of the mountain and simply had to be given the respect it deserves.
You will be able to purchase these limited-edition garments when entering online for this year's race. You can purchase at the same time for as many other people as you like. We are also working on other ways you can purchase the garments; if you are not entering the race and simply love the design.
To ensure collection on race day you will need to purchase online by August 31. We need to really emphasise, this particular garment has received express permission from the photographer and is a limited edition only.
After this year's race this design will not be produced again.
This really is a once in a life time opportunity, whilst at the same time helping others less fortunate.
We hope you take full opportunity of this unique offer, irrespective of whether you are entering the race or not.
PLEASE NOTE:  Ladies, if you are petite, you should consider ordering in the childrens sizes.  Please check the SIZE CHARTS and DESIGN OPTIONS